Classes & Degree Programs
Learn more about historic preservation at these North Carolina campuses.
UNCG Historic Preservation & Museum Studies Program
The University of North Carolina Greensboro (UNCG) provides a multi-disciplinary approach to Historic Preservation offering graduate degrees and a certificate through both the History and Interior Architecture Departments.
UNCG students have the option of pursuing a Post-Baccalaureate Certificate in Historic Preservation, a Master of Arts in History with a
Museum Studies Concentration, or an MFA in Interior Architecture with a specialization in Historic Preservation. Launched in 2000, this collaboration between the History and Interior Architecture departments provides students a unique opportunity to utilize the resources of both departments, offering students a multitude of education tools for professional growth. One such opportunity is a three-week preservation field school where students gain hands-on experience under the guidance of skilled restoration and rehabilitation craftspeople.
For more information, visit: https://iarc.uncg.edu/wp-content/uploads/2020/10/HP-PBcertHandout2020.pdf
The Historic Dimension Series includes illustrated briefs on a variety of topics created by students in the historic preservation curriculum offered by the Interior Architecture Department at UNCG. Visit: https://gateway.uncg.edu/islandora/object/community:CC0066
Edgecombe Community College Preservation Program
The Historic Preservation Trades program at Edgecombe Community College (ECC) began in fall 2008 with a daylong
event that included demontrations by preservation specialists. Since then, the courses have attracted participants from across the state and out-of-state. No other community college in North Carolina offers a training program in preservation-related building trades.
Jack Peet demonstrationEdgecombe offers a continuing-education certificate program in Historic Preservation Trades that requires six courses. Classes are offered each semester and are held at historic sites in Edgecombe County or on the campus of ECC in Tarboro. Beginning in the spring 2010 semester, the college will also offer a two-year associate degree and one-year diploma in Historic Preservation Technology.
Learn more about ECC's preservation program here.
Salem College Historic Preservation Certificate for Undergrads
Salem College offers an undergraduate Historic Preservation Certificate Program. You can decide to minor in the area or earn a certificate.
You will develop knowledge and skills in history, theory of historic preservation, methods of documentation and recording, sustainable design, and the ways in which history is portrayed to public audiences. Salem's historic setting in Old Salem will help in the development of your knowledge and skills in historic preservation.
Students will be able to take courses in art, history, and interior design while studying Historic Preservation. The opportunity to take an internship and/or a study abroad is encouraged.
For more information, click here.
UNC Chapel Hill Planning Program
Since 1946 the Department of City and Regional Planning at the University of North Carolina Chapel Hill has been providing students with an excellent education in the planning field.
UNC Chapel Hill was the first planning program in the United States with its principal university base in the social sciences instead of in architecture or landscape design. The department now offers a wide range of degrees, including a Doctoral Program, Master's Program, and Undergraduate Minor. Students also have the option to enroll in certificate programs. There are over 50 courses offered by the department each year, allowing students to concentrate in specializations such as community development, economic development, environmental planning, land-use planning and design, and transportation planning. The strength of UNC's planning program is found in a strong student base, engaged faculty, and real-world exercises and projects that include community service.
For more information, visit www.planning.unc.edu.
ECU Public History Program
The Department of History at Eastern Carolina University in Greenville offers numerous degrees in Public History, including a B.S. in Public History, an M.A. in History with concentration in Public History, and an undergraduate minor in Public History. ECU's history programs provide students with lifelong skills, such as critical thinking and effective writing, which prepare the students for careers at non-profit agencies, museums, archives, and historic sites.
For more information, visit www.ecu.edu/history/index.cfm.
NC State Public History Program
The department of history at NC State University offers students a 36-credit-hour M.A. degree in public history. The program has maintained one of the highest placement rates in the country, with graduates working with archives, museums, libraries, historic preservation agencies, historic sites, cultural resource firms, national parks and forests, and historical firms.
The program has been evolving since the late 1960s when the Department of History created a M.A. "minor" in archival management. The program expanded in 1982 with a full M.A. degree in archival management, and 10 years later the program developed a museum studies track. The program continues to grow, now offering courses in oral history, documentary editing, cultural memory, and digital history.
For more information, visit http://ncsu.edu/graduate/public_history.php.
UNC-Wilmington Public History Program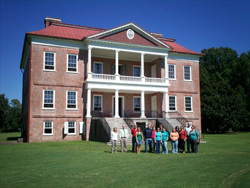 Southeastern North Carolina boasts a rich network of museums, archives, historical societies, documentary filmmakers, and historic preservation agencies, as well as one of the top public regional universities in the south. Since the 1980s, the public history program at the University of North Carolina at Wilmington has provided a vital link between the University and the Cape Fear region's wide variety of institutions that preserve and communicate history to the public.
UNCW's public history program introduces undergraduates to the practice of history outside of traditional classrooms and prepares graduate students for positions in museums, historic sites, and historic preservation. Further, the program provides historical services for area institutions and government agencies and develops innovative public projects that engage a broad range of audiences. UNCW's students and alumni are making waves, and enhancing the quality of life, in Wilmington and throughout the region!
If you are considering a career in public history, consider attending UNCW as either a graduate or undergraduate. The integrated curriculum, opportunities for community engagement, committed faculty, and teaching resources combine to provide students with the knowledge and skills needed for productive careers in public history.