A Meaningful New Headquarters for Preservation NC

We're almost there – just $15,000 to go!
Make a donation today to help us cross the finish line for the renovation of our new Headquarters in the Hall and Graves-Fields Houses!
Donors of $1,000 or more will be permanently acknowledged in the new headquarters office. Gifts may be paid over two years and can be set up for monthly, quarterly, or bi-annual payments. Call Shannon Phillips at 919-832-3652 x229 if you would like to discuss other donation options such as gifts of stock or pledge payments.
---
Preservation North Carolina is working to acquire, relocate, and renovate the Rev. Plummer T. Hall House and the Graves-Fields House, two of Raleigh's most important African-American landmarks surviving from the freedman's community of Oberlin, and use the two structures as its Headquarters Office. Both the houses are individually listed in the National Register of Historic Places and are Raleigh landmarks. Built in the 1880s, they vividly tell remarkable post-Civil War stories where former slaves optimistically embraced the importance of hard work and education as the means to provide a better life for themselves and their children. They and their descendants overcame relentless obstacles with remarkable achievements.
The preservation of these two houses will help tell the story of Oberlin Village, which ran about twelve blocks from Hillsborough Street to what is now Wade Avenue. By 1880, it had about 1,000 residents and for decades was a thriving community with churches, schools, businesses and homes. When Cameron Village Shopping Center was built in the early 1950s and Oberlin Road became a major thoroughfare, the modest remnants of Oberlin village disappeared block-by-block, house-by-house. The Hall and Graves-Fields Houses are two of only five remaining landmarks in Oberlin and are stranded amidst new development.
Having PNC's Headquarters Office in these two important surviving landmarks in Oberlin will underscore our commitment to diversity in preservation. Their visibility will be exceptional. The preservation of these houses will also complement grassroots efforts to save other remnants of Oberlin, including historic Oberlin Cemetery.
The complex project will require relocation of both houses, extensive renovation work and new additions to accommodate modern office needs.  The houses will be sited close together and connected by a basement. The project will cost about $1.25 million. To date we have received $1,235,000 in commitments, including a $500,000 challenge grant from an anonymous donor. Your support is needed to help us save these two significant landmarks of this important community. But for PNC and the generous donations that make our work possible, these houses – and the stories of the amazing people who lived in them – would be lost. Click here for more details about the project.
---
Thank you to our project donors to date!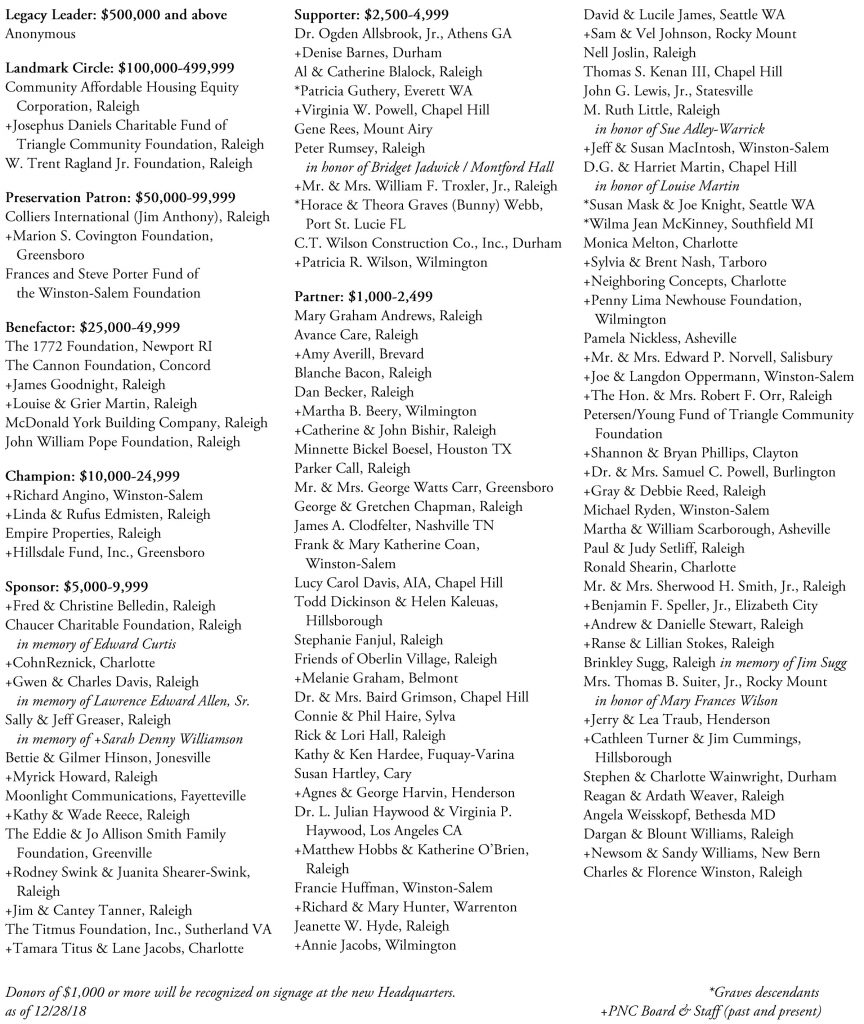 In the news: