Preservation NC Headquarters, Raleigh
Oberlin, the Plummer T. Hall House, and the Graves–Fields House 
Why Preserving These Houses is Important for Future Generations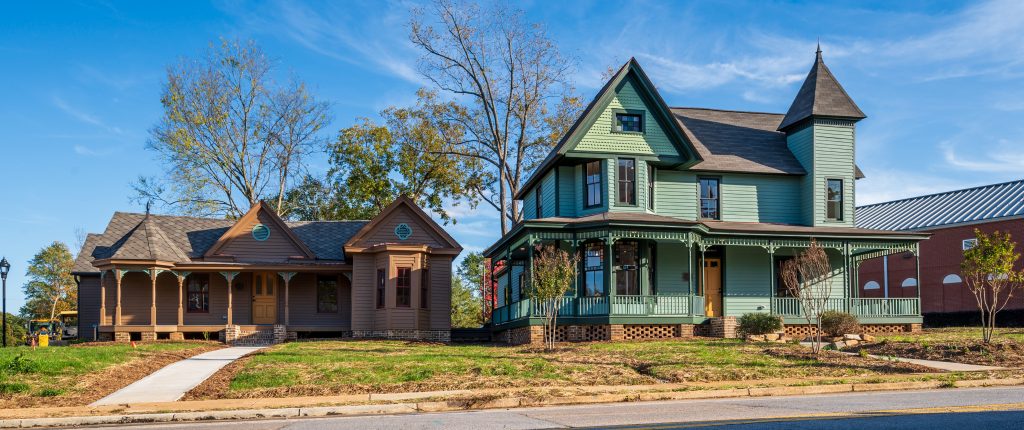 Over the last 35 years, Preservation NC has moved its headquarters office in Raleigh four times in order to solve urgent preservation problems (see photo gallery below).  In November 2019, PNC moved in to the Rev. Plummer T. Hall House (left) and the Graves-Fields House (right) on Oberlin Road in Raleigh.  The journey to our new headquarters office was long and complicated – over three years in the making – but it was well worth the effort.
About Oberlin
The public hardly knows the story of the Oberlin community in Raleigh since its buildings, the tangible links to that past, have largely disappeared.  Established as a freedmen's village around 1870, Oberlin ran from Hillsborough Street all the way to Glenwood Avenue.  By 1880, it had about 750 residents, among them carpenters, brick masons and seamstresses, some of whom had been enslaved by the Cameron, Mordecai, Hinton, and other prominent white families.
For decades Oberlin was a thriving community with churches, schools, businesses and homes.  In 1914, a New York newspaper described Oberlin as "a unique little village of nearly twelve hundred inhabitants.  The neat-looking buildings are artistically painted, and the front yards are planted with rose bushes and other shrubberies."  Oberlin actually surpassed Raleigh on some measures of homeownership and education.
Since the late 1940s, Cameron Village Shopping Center, the construction of Wade Avenue, urban renewal, public housing, and commercial development have largely wiped out Oberlin.  Out of several hundred Oberlin structures, only 34 (or fewer) remain.
About the Houses
The Rev. Plummer T. Hall House and the Graves-Fields House are two of only five Oberlin structures individually listed in the National Register of Historic Places.  Both are exuberant Victorian houses whose strong street presence belies their modest size.  They were clearly built to impress.
Plummer (preacher) and Delia (storekeeper) Hall, as well as Willis (bricklayer) and Eleanor Hinton Graves (teacher), were all born into slavery.  Their prominent houses, built around 1885, vividly tell remarkable post-Civil War stories where formerly enslaved people optimistically embraced the importance of hard work and education as the means to provide a better life for themselves and their children.  Through continued racism, that path was not easy, but they and their descendants overcame relentless obstacles with remarkable achievements.
Several of Graves' descendants had notable careers.  One son went to Howard University School of Law and became a major Civil Rights attorney in Detroit.  He worked with Thurgood Marshall on the landmark 1948 US Supreme Court case that invalidated racially restrictive covenants.  In 1906 while attending Cornell, another son was the first initiate into Alpha Phi Alpha, now the largest African-American fraternity.  In the 1960s, a grandson was appointed by President Kennedy to head Voice of America in Latin America.
In the mid- 20th century, the Graves–Fields House was purchased by Spurgeon Fields, Josephus Daniels' long-time chauffeur.  His children and grandchildren include attorneys, teachers, and other professionals.  The Fields Family brought a new generation of life to the Graves-Fields House and were pillars of the Oberlin community.
About the Project
By 2016, the Hall and Graves-Fields Houses were both stranded amidst large new apartment buildings, banks and office buildings and threatened by rapid development along Oberlin Road.  The houses sat only about 200 feet apart on Oberlin Road, with Oberlin Baptist Church between them.  PNC had been working with the Raleigh Historic Development Commission (which owned the Hall House) for years to try and find a buyer for the house.  But what does one do with a very modest and seriously dilapidated house sitting on real estate worth more than a half-million dollars?  To make matters worse, it had to be moved back on its lot because it encroached on the road right-of-way.  Around the same time, the Graves-Fields House had been purchased by a developer and faced demolition unless it could be moved.
Preservation NC had a crazy idea.  Move the Hall House back from the right of way, and move the Graves-Fields house a few hundred feet around the church to sit next to the Hall House.  Join them together and create a space that PNC could occupy as its new headquarters.  The idea took hold, but everyone knew that it wouldn't be easy.  The complex project included relocation of both houses, extensive renovation work, and new additions to accommodate modern office needs.  The houses are sited close together, connected by a basement.  More than $1.4 million was raised to complete the project.
These houses had rich stories to tell, and their preservation compelled us to learn more.  We never imagined the wealth of information we would uncover about Oberlin, and the builders and their descendants.  We are still learning more, and these houses will help us tell these stories for the benefit of future generations.  But for PNC and the generous donors who make our work possible, these houses – and the stories of the amazing people who lived in them – would be lost.
Having Preservation North Carolina's headquarters office in these two important surviving landmarks in Oberlin underscores our commitment to the mission of saving landmarks important to the diverse people of North Carolina.  Come visit us to truly feel the extraordinary history of Oberlin.

Like what you see? Join PNC to help us do more!
About the documentary, Oberlin: A Village Rooted in Freedom
Preservation North Carolina worked with digital storytellers, Moonlight Communications to produce Oberlin: A Village Rooted in Freedom. The documentary film reveals how a historic preservation project has helped recover the story of a once-thriving town near Raleigh built after the Civil War by formerly enslaved and free blacks. Oberlin had more than 1200 inhabitants before being paved over in the name of progress. The renovation of two 1880s houses by Preservation North Carolina has exposed remarkable stories about the families who lived there.
Preservation North Carolina partnered with UNC-TV and WRAL Documentaries to debut the film in February 2020. You can also stream the film from Preservation North Carolina's YouTube channel.
Learn More!
North Carolina Preservation, Special Issue No. 156, Winter 2017-18
Hidden History: The last piece of Raleigh's lost wonderland, Gotno Farm
Preserving The History Of Black Excellence In Raleigh
Preservation NC Turned Two Queen Anne Homes Built by Former Slaves Into Its New Headquarters
Saving Raleigh Freedmen's homes and their stories
Play, documentary celebrate restoration of historic homes in Raleigh's Oberlin Village
Raleigh village built by former slaves is fast disappearing, but not these two houses
Historic houses on the move in Raleigh's Oberlin Village
Raleigh black historic landmarks on the move
Oberlin Rising: Raleigh sculpture, park project honors historic freed slave community
Two historic houses will be preserved in Oberlin Village
Trail of History: Preservation North Carolina
---
Thank you to our headquarters campaign donors! 2017-2019