Volunteers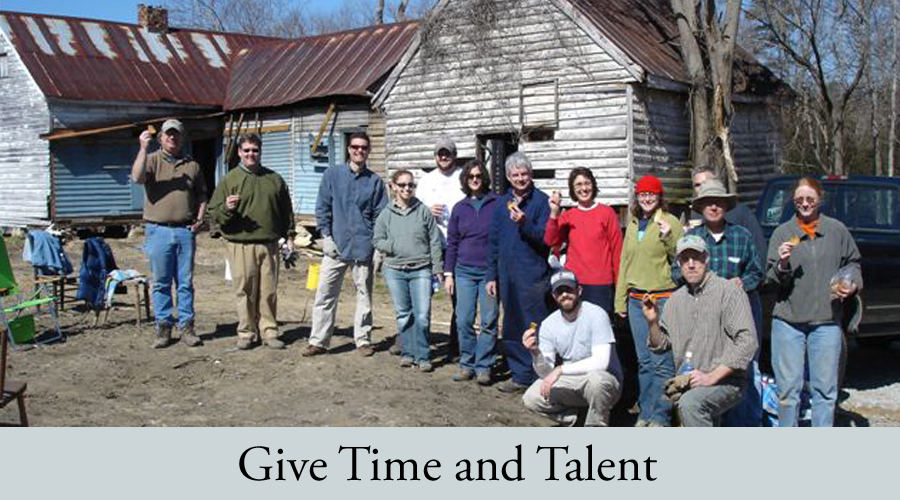 There are various opportunities to volunteer with Preservation NC across the state, from helping out in one of our Regional Offices or Headquarters, to taking photographs, to assisting at our Annual Conference and special events.
---
Staff Support

In our offices, in the field, or from your own home, there are many opportunities for assisting our staff:

Photograph our historic properties.
Show properties to prospective buyers.
Conduct inspections of protected properties.
Assist with filing, photo scanning, or special projects.
Research information about historic properties.
Create floor plans for properties for sale.
Help with yard work at our Headquarters.
---
Special Events

Special events and conference volunteers are needed before and during events to help make sure our events run smoothly. Tasks include preparing conference welcome bags, assisting with our Honor Awards, helping with event set-up and decoration, greeting guests at registration, tour docents, and more. Check our events calendar regularly to see if there's an upcoming event where you can help!
---
Volunteer Workdays

We host volunteer workdays throughout the state that help improve our endangered historic properties for sale. SAFE Events (Saving Architecture For Everyone) include yard work, junk removal, and basic property cleanup. Check our events calendar regularly to see if there's an upcoming volunteer workday.
---
---
Let us know how you'd like to get involved by submitting a Volunteer Interest Questionnaire to Marilyn Drath at volunteers@presnc.org (download the file to your computer and then open it using Adobe Reader rather than a web browser). Please include the days of the week/month and hours you are available (office hours are Monday through Friday, from 9am to 5pm).
We will follow-up to discuss current volunteer opportunities. Thank you in advance for your help!