The Loray Mill Village Revitalization Project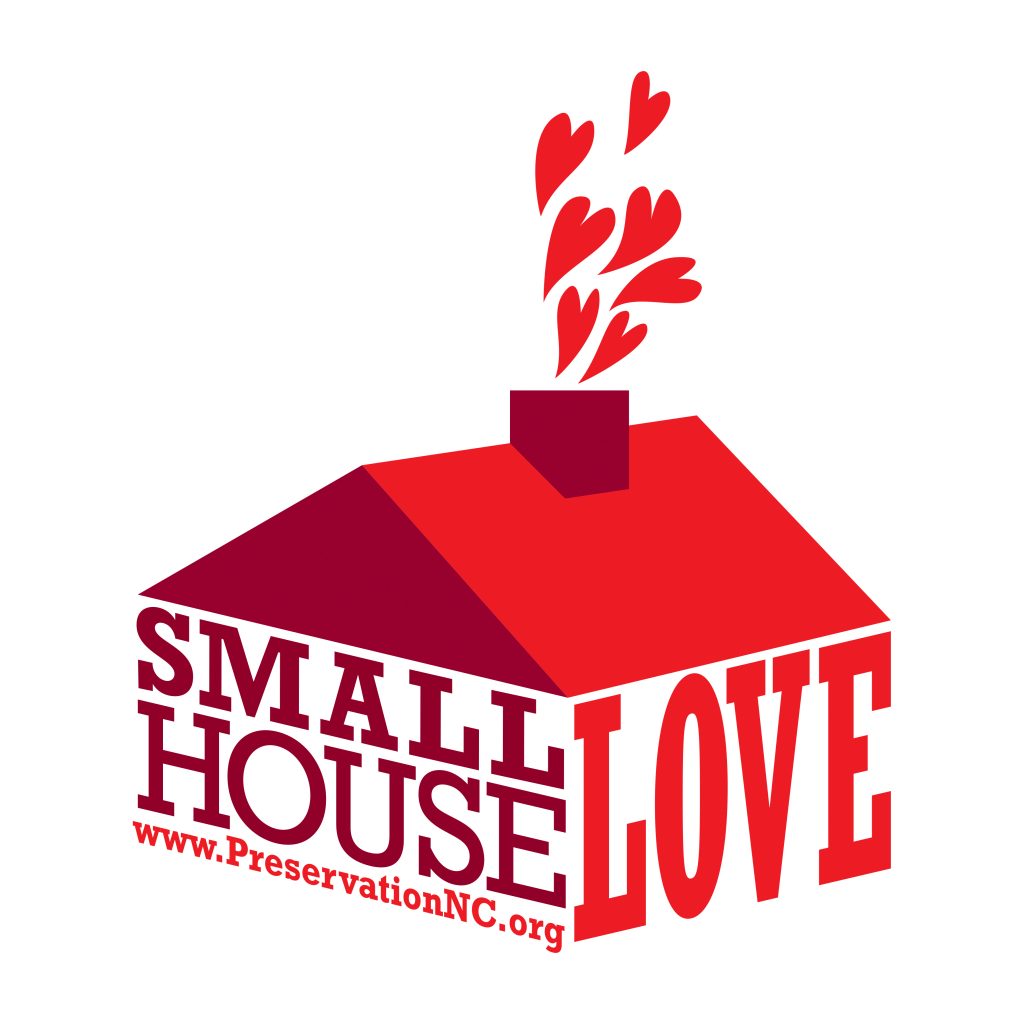 Preservation North Carolina (PNC) is working to help transform Gastonia's Loray Mill Village into an attractive, affordable, stable, racially and economically integrated downtown neighborhood for smaller households, making it a better place to live for existing and new residents.  We are strategically acquiring and renovating vacant or abandoned mill houses to help revive the neighborhood, one house at a time.
Check out this great article from the Gaston Gazette about the Loray Mill Village Revitalization!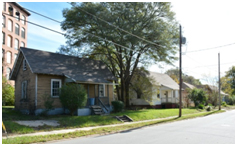 The Loray Mill National Register historic district is a struggling working-class neighborhood.  With nearly 500 mill houses, the district is one of the largest of its kind in the country and is listed as having national (as opposed to local or state) significance.  Most of the houses were built in 1901-2 or in the early 1920s.  The village has been languishing for years, especially since the mill's closure in the 1990s.  Many rentals owned by absentee landlords have been abandoned.  Despite being a mere twenty miles from downtown Charlotte, property values are unsustainably low.  Homeownership has dropped to 26%.  In Gaston County as a whole, 67% of homes are owner-occupied.
The neighborhood is now well-positioned for a comeback.  In 1998, Firestone donated the mill to PNC.  After a long effort, PNC sold Loray Mill in 2012, and its $51 million renovation (Phase I) at the center of the village will provide huge momentum.  Other new investments in the area include Optimist Park, a fitness center and brewery in the mill, the planned ArtSpace, and a proposed minor-league baseball stadium.
Working in the Loray Mill Village in Gastonia over the next 5-7 years, PNC seeks to:
Strategically acquire, fully renovate and sell 20+ now-vacant mill houses at affordable prices to diverse buyers, and sell 20+ more "as-is." Covenants will require homeowner-occupancy and ensure that houses remain small and thus more affordable. (Right: our first sale!)
Encourage homeownership of small, affordable, well-constructed homes as a pathway to building wealth. PNC hopes to help lift homeownership from its current rate of 26% toward a healthier range of 75-85%.  Homeownership is important for stable neighborhoods, informed citizenry, and wealth accumulation by individuals of modest means.
Increase public and private investment in the neighborhood, helping to organically rebuild the real estate market until it is locally competitive, restore property values for existing homeowners, and increase local government tax bases. Increased homeownership amplifies a neighborhood's voice in the competition for public infrastructure expenditures (such as improved schools, sidewalk and street repairs, transportation options, etc.).  By reusing funds through its revolving fund and encouraging additional private renovations, PNC will directly pump $2,000,000+ into a diverse working-class neighborhood of 500 houses.
Promote the desirability of small historic houses for small households, such as Millennials and downsizing Baby Boomers. Small houses are increasingly needed. 61% of American households have one or two persons.
Despite the problems facing the mill village, PNC believes that it (in partnership with others) can turn the tide.  Several trends and opportunities work in our favor:
All 190 market-rate apartments are fully leased in Phase 1 of the Loray Mill renovation, and construction of Phase 2 (residential targeted for 55 and older) will begin soon.
The mill village is highly walkable – a desirable feature for many younger buyers and empty nesters – with homes in walking distance of numerous amenities, both at the mill and downtown.
Neighborhood diversity is also highly desirable among younger buyers. The mill village is 61% white and 39% non-white, in contrast to nearby predominately white and historically black neighborhoods.
The small houses and small lots in the mill village (usually 800-1100 square feet) will be affordable and attractive for small households. PNC will be selling fully renovated houses for approximately $90,000-$120,000, much lower than regional median sales prices ($207,000 Charlotte; $136,000 Gastonia; $181,000 Belmont; $173,200 Mount Holly).
A 15% state historic tax credit will be available to purchasers in the mill village.
Private grant funding to create and staff a history center in the mill will provide a new cultural anchor in the center of the village where residents and visitors can learn about Gastonia's rich history – from music to industrialization to civil rights.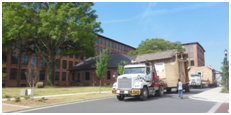 In just one year, PNC has acquired fourteen houses in two target areas in the mill village (several through donations) and sold two houses "as-is."  We have relocated four houses for renovation.  We have obtained architectural/ engineering plans and specs for five houses, and contractually committed to the repair/rebuilding of more than 50 historic windows.
Full renovation is underway at the Model House on Second Avenue (pictured below: before and during renovation) and on two of the relocated houses.  Our Phase 1 renovations will be mostly completed this fall, and the renovated houses will go on the market for homeownership.  We have also listed four houses for sale "as-is."  If they don't sell in a timely way, we will renovate them with the proceeds from the sales of the first renovations.  All of the properties will be sold subject to preservation covenants that require homeowner-occupancy. 

PNC has already invested more than $550,000 in the project.  This funding comes from a variety of sources, the largest being a $500,000 low-interest program-related investment loan from The 1772 Foundation of Newport, RI for the purchase and renovation of houses, enabling PNC to work with 4-5 houses at any given time.  PNC has received a number of generous grants and is continually seeking additional private donor support to ensure the project's continued success.
PNC believes it can help turn the tide in the Loray Mill Village and help rebuild this historic community into a diverse and sustainable working-class neighborhood that is once again a thriving and desirable place to live.  The biggest beneficiaries will be current Loray Mill Village residents, who have been deprived of their homes' equity through declining property values.  Our work to slowly and sustainably lift the real estate market in the neighborhood will help ensure their homes will once again be safe, secure, and financially viable.  Through increased homeownership, the neighborhood will be also well-positioned for increased public infrastructure and private investment.  The community will become more diverse through economic integration, and Gastonia and Gaston County will also benefit from substantially increased tax revenues.
Please join us in our efforts to help revitalize Gastonia's Loray Mill Village.  Nearly every city or town has a neighborhood like Loray Mill Village: a downtown neighborhood of modest older houses caught in a death spiral.  Property values plummet, and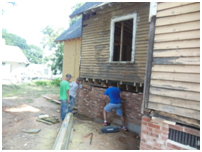 residents who remain are robbed of wealth and quality of life.  When a neighborhood's property values are sinking, new homeowners will not choose to live there, and owners are reluctant to invest in their homes.  If a neighborhood's property values don't keep up with the overall real estate market, then it is doomed to be the target of slumlords, public and private disinvestment, and even criminal activity.  If PNC can strategically acquire, renovate and resell houses in these neighborhoods, it can help make them viable once again by jumpstarting the private market.  By supporting our efforts in the Loray Mill Village, you will help us demonstrate a model of neighborhood revitalization that can be implemented in communities everywhere.